 
Skycaddie SX500 GPS unit
Reference:
Smartphone quality Handheld GPS unit from Skycaddie. Packed full of features and even includes a 13-megapixel camera.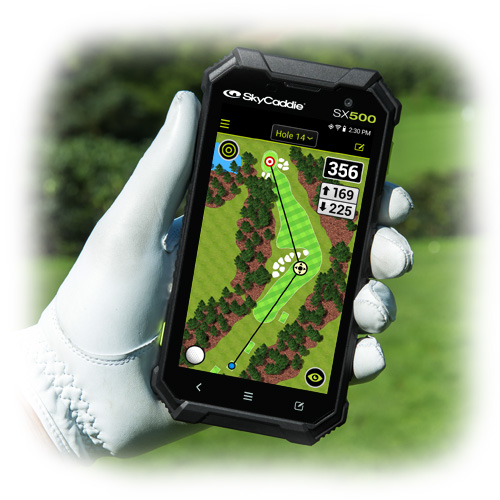 Golf's Most Brilliant Display
With its 5-inch, full high-definition touch screen driven by an ultra-fast multi-core processor, the SkyCaddie® SX500 is the most powerful way to measure yardage while providing the very "best view" in golf with vivid graphics and super large numbers you can trust.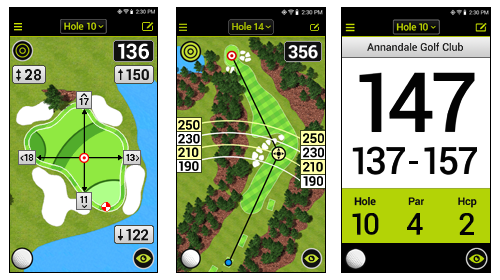 SkyCaddie
®

SX500 Features
HoleVue

®

With Integrated Targets

New

While other GPS products may provide a few calculated layup yardages, the SX500 delivers distances to up to 40 geo-referenced targets per hole, all integrated within HoleVue. Simply double-tap or pinch and zoom HoleVue to reveal instantly the critical distances to all hazards, carries and layups... all verified by SkyGolf's ground mapping teams

Unlike other rangefinders, which rely on satellite imagery that is often outdated and unreliable, only SkyCaddie walks the course to capture accurate and verifiable data to provide you with distances you can trust.

IntelliGreen

®

Technology

With SkyCaddie's patented IntelliGreen® technology, the exact shape of the green automatically rotates to match your angle of approach to provide all of the distances you need to hit more greens and avoid 3-putts. This proprietary feature gives you a chance to turn every shot into a scoring opportunity by providing front carry and back distances, depth of green, and distances to any other point on the green — simultaneously.

Dynamic HoleVue

New

Only available on the SX500, the new and patented Dynamic HoleVue™ feature rotates the fairway and orients the green from your current position and angle of attack as you move from the tee to the green. Now, you see everything between you and the green instantly without touching a button and get the distances you need to avoid hazards and play your best golf. The group behind you will play through if try that with a laser!

Dynamic HoleVue with IntelliPath Technology

New

Simply use the cursor to select your intended target and line of play and IntelliPath not only provides the distance to your intended target, but also automatically provides the distance to every other relevant attribute of course along and beyond your target line. So, now without wasting time trying to make multiple measurements, such as with a laser, to get distances to intervening hazards, end of fairways and other shot saving information, you will have every distance you need instantly and automatically from anywhere on the course. Play like a Pro and make the right club selection with everything a caddie would tell you in one simple step and displayed graphically on a stunningly brilliant screen. Nothing Else Comes Close!

Dynamic RangeVue

®

Multiple yardage arcs overlay fairway landing areas and greens to allow you to select quickly the best club for every shot... start playing smarter and faster from tee to green.

Dynamic RangeVue

®

with Club Ranges

New

With the SkyCaddie® SX500, you can learn quickly how far you hit each club. Customize RangeVue® by entering your club yardages. Then as you play, you will see your club range next to the RangeVue ring on every part of the course for much improved shot-making to fairways, layups and greens. RangeVue® with Club Ranges provides added confidence on every shot to avoid hazards and dial-in approach shots for more birdie putts.

IntelliGreen

®

Pro

IntelliGreen® Pro is a dynamically-enhanced version of IntelliGreen that adds the ability to display major tiers, contours, false fronts, and mounds from your angle of approach to the green on selective courses. By moving the IntelliGreen crosshairs to the ridge lines on the image of the green, you can find instant distances and depth information for major tiers and false fronts. With IntelliGreen Pro, you'll always know what's ahead, no matter where you are on the hole, even if you can't see the green

In conformance with USGA regulations, SkyCaddie does not factor slopes or gradients into distance calculations.

SkyCaddie PinPoint

®

Technology

New

SkyCaddie PinPoint® provides the ability to get distances to the pin on IntelliGreen to obsolete laser rangefinders. Simply enter pin sheet or zone information into the SkyCaddie® SX500 to get distances to the front, back, pin location or zone PLUS the depth and true shape green... AND all of this information is on one screen that changes automatically based on your current position and angle of approach from anywhere on the course…whether you can see the flag or not. With the SX500, you get more information, from more places, easier and faster and without aiming! Try doing that with a laser!

Digital Scoring

The SkyCaddie® SX500 provides scoring options for Stroke and Stableford with handicapping and tracks total putts and fairways hit. Turn the SX500 to the left or right and the AutoView feature displays a full 9-hole Digital Scorecard instantly in landscape mode.

 

Intelligent Automation

Intelligent Automation™ provides an almost touchless and buttonless experience from the parking lot to the 19th hole. Whether you prefer only basic distance information or want everything the SkyCaddie® has to offer, simple on-off settings allow you to have it your way. Intelligent automation makes sure critical DISTANCE information is ready before you need it.

Auto-Course Selection

finds and loads your course

Auto-Hole Advances

displays the next hole before you get there

Auto-Zoom

provides the best view of the hole as you proceed from tee to green

Auto-Distance

updates yardages continuously from your location without aiming

Auto-Green Depth

calculates the green's depth and the distance to the front, back and any number in between, all from your angle of approach

Auto-View

displays scorecard in landscape view with a simple turn

 

Other Features

On Demand download for latest course updates via WIFI
Measure the distance you hit any shot and learn your club distances
North Indicator
Tee Box Selection & Gender
Round Photos with built-in 13-megapixel camera (upload to SkyGolf 360)
Dual Green Support
Yards & Meters
Target List View
Simple Front Center Back View with ultra-large numbers
Digital Scorecard
Stat Tracking
16 other products in the same category: